Chiang Mai 21km race – done and dusted. Never thought it would be ended Chuan Heng & Jackson (C & J) with an unexpected twist of events.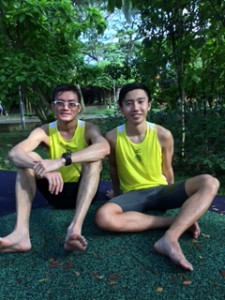 Chiang Mai, their 1st race in this region. Conditions were mixed – ideal temperatures in the low 16s(C) but dry air & windy. Soon after the start C & J settled in behind the group of International Elites. After entering into the highway the 1st group elites stepped up & 2nd group comprising C & J drifted off the back. Jackson was hang on behind Chuan Heng. They stayed that way until reaching 17km – 18km where the street lights were dim & no signage to indicate runners to turn left that led runners dashed to the wrong direction fortunately someone alarmed & official vehicle came along gestured them to make u-turn. Delightfully they were able to maintain the target pace, sufficient to meet their target finish time of sub-1:30
Chuang Heng : 1:29:30
Jackson : 1:29.26
Chuan Heng & Jackson missed the top 5 placing on podium nevertheless  we applauded for their performances given the longer distance they covered. Great event & atmosphere.
It was their first visit & first event in Chiang Mai & they agreed to share some of the perceptive on their running experiences.
When did you start running seriously?
Jackson : Since October 2013 after joining the Gombak group I started training significantly.
Chuan Heng:  3 years ago after bumping into Kek HL I'm pretty much on track.
How about sharing your running plan ?
Jackson: I, self-coach for 6 days per week. Largely doing tempo run & interval & long run.
Chuan Heng: weekdays doing interval/tempo at Bt Gombak Stadium with regular training buddies like Jackson & MI etc & Sunday, long run.
How did you prepare for Chiang Mai 21km?
Jackson: Consistent is KEY in spite of the haze PSI undesired level & rain I keep up my training schedules. Taking part 2XU 21km Race & Sundown Marathon as my preparation for the Chiang Mai Race.
Chuan Heng: Plan the training program according to target race. Be mindful of over-doing.
What's lesson you have learned from Chiang Mai Race?
Jackson: Be focused & be able to push pace to salvage the lost distance & not losing your cool.
Chuan Heng: Be confident & sustain your perseverance until done.