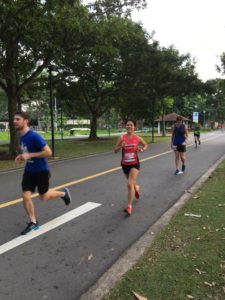 SCMS 2016 – It has almost been a ritual for the past decade to end the year running the Singapore Standard Chartered Marathon. A race that I always endeavour to do. A run that saps the being physically and mentally to toe the finishing line. To me, it also means putting any negativity behind and start the coming new year afresh.
Training for this marathon started sometime in July when I began my 1st long run. I have never been a fan of 'long run'. It was stressful whenever we…ekend approached, even more a challenge to do it all alone. Somehow I got to do it to achieve the goal I set myself.
Routine training constituted of three days running (Interval, Tempo & Long), one core day, one strengthening day and two rest days. Track works at Gombak Stadium and Long Run at Zhenghua Park to Yew Tee PCN.
I am glad to train with a group of running enthusiasts at Gombak Stadium. Some are 'old birds' of Macritchie 25 (MR25), fast and furious! Grateful for the training philosophy shared by these experienced and tip-top 'old & young birds'.
Race day started smooth except for the humidity. Was cruising at the pace that I set out to do until the 27km mark when my stomach started to cramp most likely due to the lack of water after swallowing a packet of gel along ECP loop. Pace dropped to a minute slower. I was despondent thinking that I was going to miss my target. Luckily, stomach started to ease at 31km and managed to pick up my pace but not to target pace as I was beginning to run with elephant's legs. Sun was out and it was hot and humid, every steps seem draggy. The physical was almost drained, the mind was in to do the psycho work. Last 2km to the finish line was a push to the limit having to squeeze through packs of 10km and 21km runners. At last, the finish line was crossed with a PB! I was happy!
Thanks to the supporters who came down early in the morning to cheer us up!
Thanks to the training buddies from Gombak and MR25!
Lastly, thanks to MR25 for holding the Race within Race! I got a free pair of running shoes!
Thanks Mel for the pics!