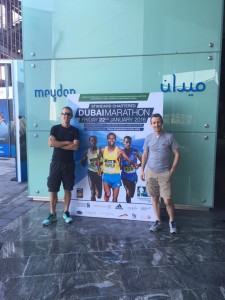 It's now week 3 of my fiftieth year and next up on my activity list was another event that was planned a while back – The Dubai Marathon.
This was to be my fourth Dubai Marathon and for the second year in a row my brother Gerry kindly agreed to give this a go with me. Catching up with family and getting a race done in a great location is always worthwhile.Plus it gives Gerry a break from the grim Glasgow January weather and a dose of my cheery company.
I set off Wednesday lunchtime from Singapore arriving in Dubai early evening to a glorious sunset that I captured from my window as we came into land. If you look carefully you can see Burj Khalifa poking into the sky in the distance.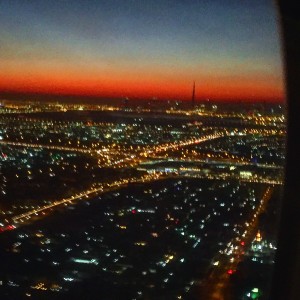 Gerry had left a cold and miserable Glasgow at lunchtime but by the time he got to the hotel at around 2am locally all we could do was a five minute chat before I crashed out.
Next morning it was an early rise and a short trot in the morning sun to loosen the legs and catch up some more before heading off to collect race numbers. Dubai number pick-up unlike most major marathons is very low key so we were in and out in 10 minutes. Still in this day and age surely it's time we either downloaded numbers or they simply got delivered. These pre-race expos are a massive ballache.
Then it was the obligatory pre-race haircut to get organised.This proved a bigger challenge than we expected as we decided to go to Dubai Mall in search of a barber. This place is man hell. It's enormous, badly signposted, heaving full and has literally thousands of designer shops.I know folks who would love this but neither of us do. I mean Gerry's idea of shopping is once a year at George for Asda to pick up three pairs of jeans and a tee-shirt.
Mind you we finally found a Filipino barber and credit where it's due he did a grand job with a No.2 razor. The general rule is that the barber stops once he's removed the grey. Cutting out Gerry's grey hair is now an impossible task though so it might be No.1 next time.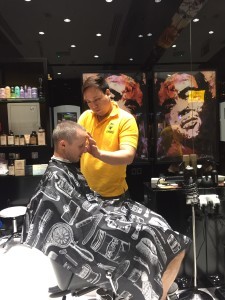 Post haircuts we simply decided that the rest of the day would be spent poolside sending annoying photos via Facebook to Craig Reid back in Glasgow before having an early dinner and an even earlier night. Dedication? No jet-lag.
Race morning we had to set our alarms for 3.55am to get some breakfast into our systems in advance of the 6.30am start. Both of us were still a bit sick with my lung infection still lingering. I was also carrying a head cold with Gerry having a chest infection too.In all honesty I was a bit worried about how things would go for me. I had real visions of a total collapse and getting carted off to hospital.
Pre-start insecurities were not helped much by having no end of issues getting a taxi to the start line on account of the road outside our hotel being closed for the race. We got there in time but it was a close thing and my anxiety levels were well up. Might have to rethink the hotel next year. However we got there with about 25 minutes to spare. This barely left any time to pee behind a bush! Better out than in.
Everyone funnelled into the start area calmly lining up in what I'd describe as a fairly low key manner.Again London could learn a bit about this approach rather than hyping everyone up. On the button at 6.30am we headed off after the official starter horn which was from my big pal Lord Coe. I never saw him to pass on my congratulations on his recent elevation to the Presidency of the IAAF.Shame that.
It was still dark and fairly cool (14C) with little or no wind as we got going. Technically perfect marathon conditions. The course had been reversed from last year and the 10k race start put back to 9.30am to cut numbers at the start area all in an effort to improve logistics and also see if the elite runners could break the world record.
As usual the first kilometer was a bit frantic but we are old hands and can usually figure out the wannabes (anyone racing in the yellow event T shirt in the front pack is a certain crash and burn) and predictably through the first 3k we were passing folks who were either blowing out their arses, sweating buckets or in some cases walking already. It's a long day out if you are trashed by 3k.
From the start point we had a dog leg of 6k out and 6k back before we passed by the start/finish area and then the hard work truly begins. Basically the Dubai Marathon is a straight out and back course along a pancake flat coast road. This is ideal for steady paced running.
I have to be totally clear here that I never look at my watch when racing. I simply run as I feel "listening" to my body (it seems to fart a lot). My instincts told me that although we were running steadily and fairly fast that I was fine and apart from the odd cough caused by the dry air pretty much within my limits.
At about 15k we passed the final surviving optimist in a yellow race tee (Gerry and myself had predicted that he'd falter at 12-15k after he hammered past us at 6k). Then we started picking off elite runners. Woo hoo.
Some were pacers who would only have ran certain distances on instruction but a good few were genuine contenders who had simply blown apart. Sadly at 20k we passed a poor Ethiopian lady who was squealing in agony being helped by medics. It looked like she had seriously damaged her knee and her distress was quite upsetting to see. I hope it wasn't as bad as it seemed.
Running together though we simply pushed on with my GPS bleeping off each kilometer and Gerry's doing the same as we covered old money miles. At 26.5k we turned for home and on my part at least I felt fine with no issues.Onwards we ran together picking off runners until about 37k where Gerry either sped up slightly or I slowed.I'm not sure which but a small gap opened. I went to close it but got a twinge in my calf as a pre-cursor to cramp so backed off slightly. The gap increased a bit but after maybe 20 seconds my warning twinge passed and I had my rhythm so the gap stayed constant at around 100 metres.
As we got to 40k the Burj Khalifa was in plain sight and we reeled in more elites although I couldn't close the gap with Gerry for fear of cramp kicking in.Into the long home straight we went with Gerry glancing back and indicating for me to "pull my finger out".I simply gestured, in a f-off way, that I had to hold my pace and he pushed on. At about 200 metres out I could see the clock on the finish line at 2.54 which was rather pleasing and Gerry passed over shortly after with myself not far behind.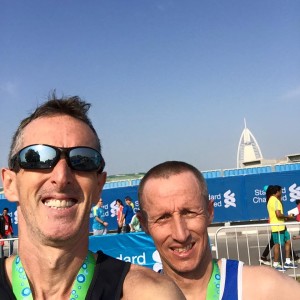 Official result was 2.54.44 for Gerry and 2.54.59 for me. We were both very happy with this given our pre-race infections, jet lag and other exertions.When we actually analysed our results we saw that our 5k splits were consistent and Gerry even ran a slight negative split (I was about 1 second slower on 2nd half). You can do your own critical analysis by following this link.
https://www.strava.com/activities/475625194
A few interesting points that were worth noting. Gerry for his part had only three small drinks of water throughout. I had nothing. No water or gels at all. Simply didn't think I needed anything and by the time I thought of something (at 36k) it seemed like a futile exercise as I'd be finished before it kicked in. Neither of us had cramp although I had twinges from about 35k onwards. Our feeling is that ultra runs are allowing us to push out the boundaries a bit before we run out of steam. I wonder how fast we could go with some EPO?
In time honoured fashion we headed back the hotel where Gerry finally got to rehydrate with pints of Perroni for breakfast.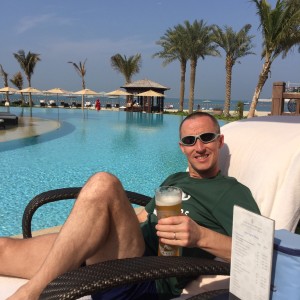 And lunch too. He even got free ones as they failed to replenish his glass on demand. That boy is truly blessed.
By the afternoon we were totally knackered but after a power snooze decided to go into Dubai Old Town at Deira and have a walk to stretch the legs off and fend off the fake watch salesmen. We rounded off the day with a cracking Arabic dinner watching the sun set over Dubai Creek which some think looks like Govan from the Partick side.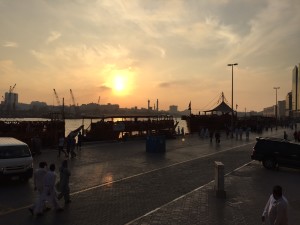 So there you go thats another of my planned activities done and as soon as I get back to Singapore I'll try and get organised for the next one.