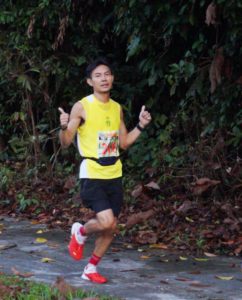 This is my 3rd time taking part in the MR25 progressive run. My first experience was the 35K which was the final progressive run held by MR25 in 2016. Before the run, I was feeling nervous that I might get lost during the run or the lack of hydration point being a volunteered organised run. I reached MR about 6:35am to meet my running kaki Lennon first and together we registered ourselves on the spot. He was feeling much more nervous being the first trail run experience and the distance is really intimidating, but somehow I still persuaded him to join me. Registration was simple and efficient. Collected our BIB number and proceed do our warm up. The run started on time at 7am. The run was cooling inside the trail and soon we were welcomed by the rolling hills. Met a few fellow runners and started to make friends with them. Well, it is interesting to make friends in this manner rather than adding Facebook friends. We reached our first hydration point. It was a simple set up with isotonic drinks and water. I was surprised to see plenty of isotonic drinks being served since this is a free event. Subsequent hydration points were also set up in strategic locations which is well sheltered from the Sun. A win-win situation for both runners and volunteers. Road marshals were also placed at the strategic location to assist directions for us. A big thumbs up for these volunteers who stand there to feed the mosquitoes. I would say it is not easy to be a volunteer than a runner. The Post-Run was a good experience too with plenty of isotonic and water for the runners. My 2nd Progressive  Run was the 10km on Jan 2017 and my 3rd Progressive Run(15Km) was on last Sunday  (March 5 2017).
Having past experience joining some local fun races and competitive races, I would say that I really enjoy the Progressive Run, in terms of the easy on-the-spot registration, distribution of BIBS, strategic deployment of road marshals and volunteers at the hydration points, time keepers etc. which the club make it so simple again and again. Bonus point is the generous servings of isotonic drinks and water. Some races even limit the number of isotonic drinks to be given to runner. Bear in mind that this is just a free event for the public and club members to join, yet the club has taken good arrangement for all the basic runners' basic needs, because the organiser are also RUNNERS themselves, they know what the runners need. On top of this, free photos are taken along the run by one of the veteran club member affectionately known as Uncle Chan. He is one nice man who really put in his own time and effort not only by just taking photo, he even take time to prepare a nice cover photo for the top 10 runners after every run. Thumbs up to him!
I would definitely recommend to any runners to join all MR organised run if you have yet to do so!