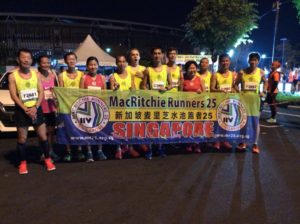 Congratulations for the successful & enjoyable outing in KL for Bukit Jalil half marathon 2017.  We take this opportunity to express our appreciations to Lawrence Lim, Competition Chairman taking effort & time in organising this overseas run. 
We proud of MR25 folks' spectacular performance.  Despite many uphills struggle they fought hard clinched top prizes in several categories also won top 3 lucky draw prizes.  More importantly we have had a great bonding & enjoying good interaction. Last but not least we thank you MR25 president, Steven Lee's effort of supporting us with brand new vest & shorts for every single runner.
Look forward for more overseas runs in the near future.